Directions to Banff
Take the TransCanada Highway west to Banff (coming from Calgary).
After you reach the Banff National Park Gates, it will be another 15 minute drive (15km).
Take the First Banff Exit.
Banff Caribou Lodge & Spa
521 Banff Avenue
1(800) 563-8764
(403) 762-5887
Fox Hotel & Suites
461 Banff Avenue
1(800) 661-8310
(403) 760-8500
Banff Ptarmigan Inn
337 Banff Avenue
1(800) 661-8310
(403) 762-2207
Moose Hotel & Suites
345 Banff Avenue
1(866) 379-0021
(403) 760-8570
Hidden Ridge Resort
901 Hidden Ridge Way
1(800) 661-1372
(403) 762-3544
Banff Rocky Mountain Resort
1029 Banff Avenue
1(800)661-8310
(403) 760-8500
Inns of Banff
600 Banff Avenue
1(800) 661-1272
(403) 762-4581
Bumpers Inn
250 Marmot Cres
1(800) 661-1272
(403) 762-3386
Tunnel Mountain Resort
501 Tunnel Mountain Road
1(800) 661-1372
(403) 762-4515
Entry Fees to the National Parks of Canada
All visitors to Banff National Park require a National Park entry pass to offset the costs of the Parks facilities and services. These facilities and services include: picnic areas, scenic lookouts, washrooms, trails and roads as well as friendly and helpful staff at visitor centres, and day-use areas.
Transfers
Looking for a service from the Airport to Banff and back? Here are a few local companies to help you out.
Mountain Park Transportation
Experience the Breathtaking Rocky Mountains
Mountain Park Transportation since 1999 has been offering guests from all over the world transportation services, from Moraine Lake shuttles to private tours and transfers and scheduled airport services.
Now offering private transfers for 1-15 guests and is ideal for families traveling together to ensure there group is social distanced.
Brewster Banff Airport Express
Calgary to Banff from $74
Sit back, relax and enjoy express service from the Calgary International Airport to Banff with Brewster Banff Airport Express. With frequent departures, large viewing windows and a flexible 90-min cancellation policy, there's no better way to access the incredible adventures of Banff National Park.
Save on round-trip bookings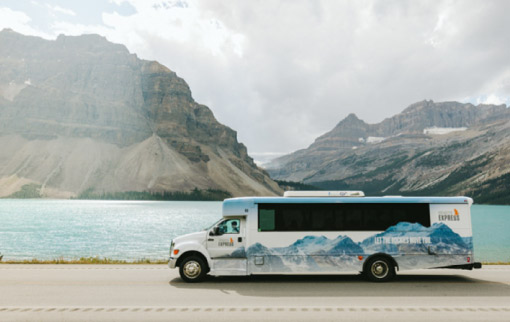 Banff Airporter
You Watch the Views, We'll Watch the Road.
Swap the stress, liability and expense of airport car rental for a comfortable seat and a knowledgeable local driver aboard a Banff Airporter Shuttle Bus.
The beauty of our service is in its simplicity – as one of our 5-star reviews reads, we're "remarkably unremarkable"! Responsive customer service, friendly local drivers, clean and comfortable buses – we do the simple things right.
Relax and take in the breathtaking views of the Canadian Rockies – we'll take care of the rest.