Bellissimo!
BANFF COMMUNITY HIGH SCHOOL FOODS CLASS STUDENTS PASS THE PIZZA TASTE TEST!
Delicious, made-from-scratch pizzas were on the school lunch menu this week, when eighteen Grade 12s cooked up a storm in the kitchen of the Meatball Pizza & Pasta.  The 'in-training' chefs arrived to meet their mentor, Chef Jesse Beal, on Tuesday at 11:30am sharp – ready to cook lunch for a full restaurant of their Banff Community High School classmates.
Following a tour of the kitchen, full safety briefing and some clear instructions from Chef Jesse, the cookery team – all of which are enrolled in the school's Foods Class – donned their chef jackets and got set on their pizza preparation.  Time was ticking, and 55 of their peers would be arriving for lunch at 12:55pm, so it was a case of ready, steady, COOK!
"That was so great!" she says. "Using the larger equipment made everything easier, and faster!" she continued. "Cooking as a team was really fun – I liked choosing the toppings."
Working in small teams, each pizza 'department' had a clear role: rolling the pizza dough; grating the cheese; making a rich, tomato base; preparing an Italian side salad; sprinkling pre-chopped ingredients of pepperoni, olives, peppers, onion and other tasty toppings onto the base; and finally, shovelling the pizzas into the oven to bake to perfection.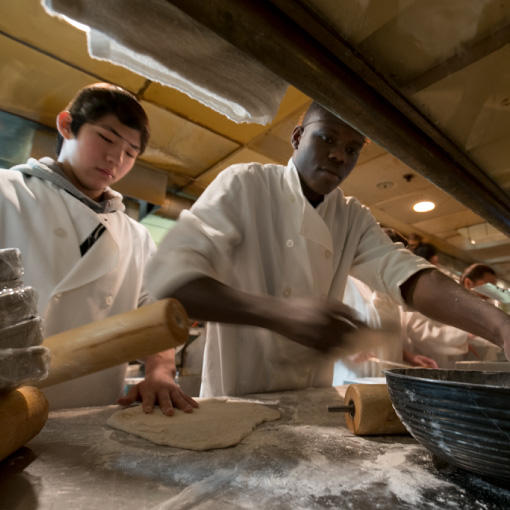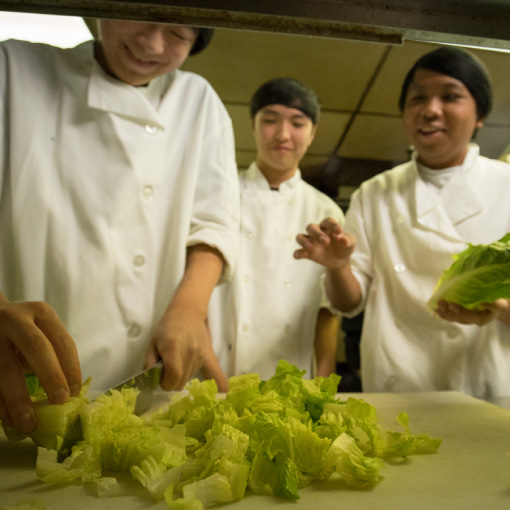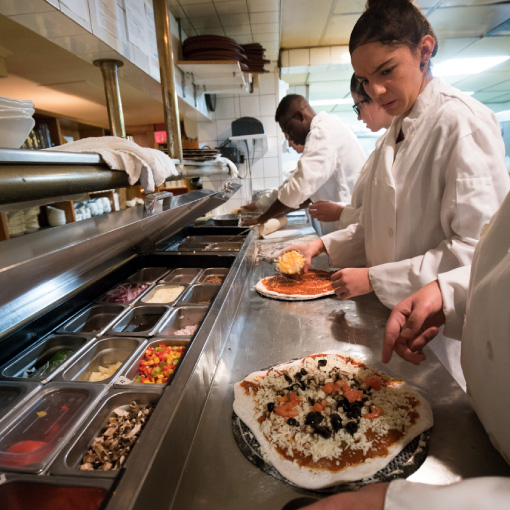 From their various cooking stations, the students worked together to make sure they had stacks of fresh, warm pizzas all ready to serve to their hungry diners. Once the cooking was done, the deserving chefs were able to sit with their friends to tuck into their tasty, homemade lunch.
For all the young cooks, it was the very first time they'd prepared food in a commercial kitchen, with their Food Studies classes usually taking place in the school kitchen, which has more in common with a domestic kitchen.
Joyce, one of the young cooks, tells us she's going to be professional Chef after she finishes her studies.
"That was so great!" she says. "Using the larger equipment made everything easier, and faster!" she continued.  "Cooking as a team was really fun – I liked choosing the toppings."
The class of cooks will return to Chef Jesse's kitchen for two further sessions, where they will prepare two different lunch options.
"We're going to be pros!" Joyce adds with a smile.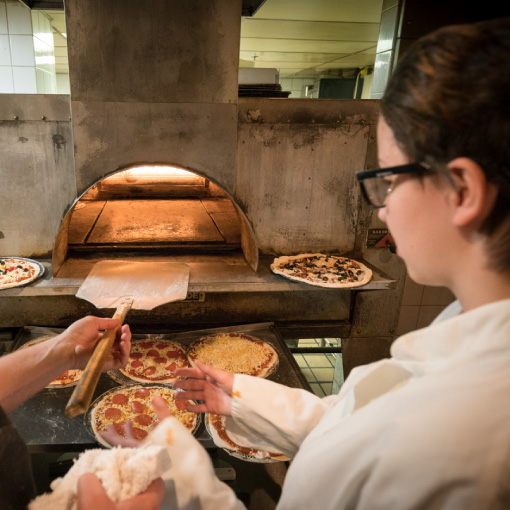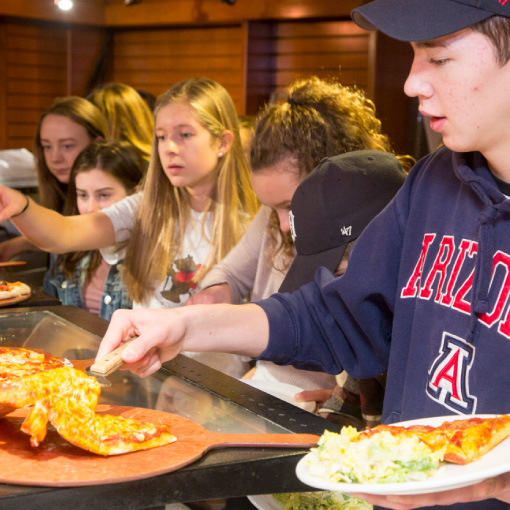 The cooking session was made possible by Banff Lodging Co., and Jesse Beal, Kitchen Manager of the Meatball Pizza & Pasta, as part of the Meatball Hot Lunch Program – whereby Banff Community High School students enjoy hot, fresh lunch options prepared and served at the Meatball Pizza & Pasta each week (for the duration of the program).  Chef Jesse volunteers his time to prepare the meals for the students to enjoy each week throughout the eight-week program, which also raises funds for school initiatives.
"We've been supporting the hot lunch initiative for 6 years," says Chef Jesse. "Initially, we just prepared food for the school to offer 'Taco in a Bag' at the school. Three years ago, we started to host the students at the Meatball, where it's much easier for preparation and execution, and we can offer different menus each week.
"We knew the program could be more than a lunch experience; an opportunity to learn outside of the classroom.  So we came together with the school to add a practical cooking experience into the program, for those students that have shown an interest in developing their food skills.
It's truly fantastic to see them get so involved in the kitchen and work together to cook food from scratch, in a real kitchen environment.  We love being a part of it," he adds.